La Marseillaise - guitar tab, notes, chords and lyrics
"La Marseillaise" is the National anthem of France. The words and music were written by Claude Joseph Rouget de Lisle in 1792, during the French Revolution. The song originally titled "Chant de guerre pour l'armée du Rhin" and soon to be known as "La Marseillaise" (the name was formed after the city name Marseille, volunteers had brought the song from the city to Paris in 1972) accepted as the national anthem of France in 1795.
La Marseillaise (full accompaniment)
"La Marseillaise" for guitar with full accompaniment. Free download in pdf-file and audio.

La Marseillaise guitar accompaniment
La Marseillaise for flute
"La Marseillaise" for flute in the key of C. Free download in pdf-file and audio.

La Marseillaise flute
La Marseillaise (only melody)
"La Marseillaise" tablature notation for guitar.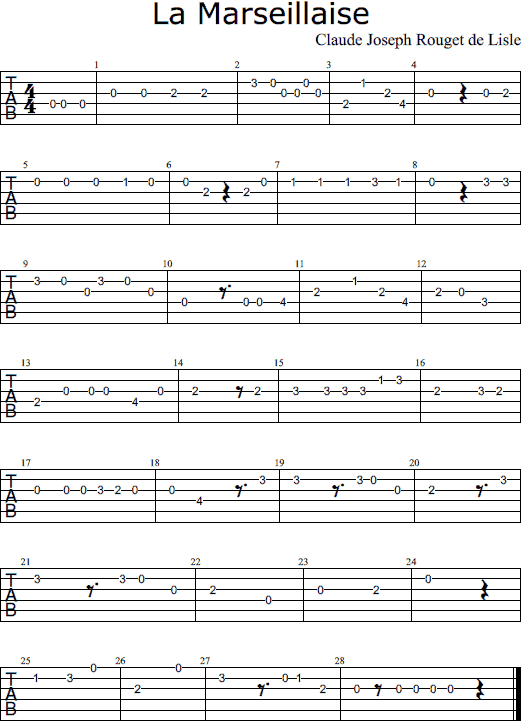 Tips on how to learn this song
This is a relatively difficult song. There are many bars, which are quite variated and to that can be added a rather fast tempo. To notice is that the melody in the tab is played in open position and the whole song only involve open strings and frets 1-4. Since the tempo is rather high, effective fingerings are crucial.
Key, time, tuning and tempo
Information about "La Marseillaise" considering musical key, time signature, tuning and bpm.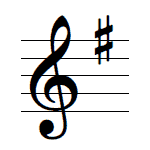 Key
The main presented version of La Marseillaise is played in the key of G.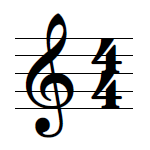 Time signature
The song is played in 4/4 tempo.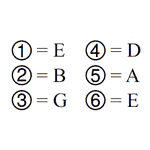 Tuning
The song is normally played in standard tuning (EADGBE).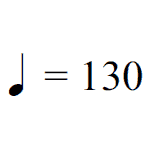 Tempo (BPM)
The tempo in beats per minute is 130 for the presented version.